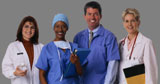 Click any of the link below to jump to the topic of your interent
Interviews
References
Investigative Checks
Training and Development
Equal Opportunity
INTERVIEWS
Our Recruitment consultant prior to an agency worker being placed on any assignments conducts all interviews.
Our reccruitment consultant undertakes the interviews. The following are assessed during the interview.
All details on the application form must be confirmed with the applicant to verify and ensure that the correct information is submitted
previous clinical experience of the applicant will be assessed/discussed (this must be reflected by the 5 year employment history the Apllicant has provided on the application form). This information would then be used to identify suitable agency work for the Applicant.
All previous training courses/study days the applicant has attended must be documented. Applicants are asked to show their professional portfolio (PREP); if they do not have one, they will be given a portfolio at their initial appraisal.
The recruitment consultant carries out the NMC Pin check verbally, via the NMC Automated Pin Check Service at the point of the interview. This is followed by written confirmation with the NMC. The applicat is also required to show his/her original statement of entry onto thr NMC Register and their Pin card.
Communication skills are also assessed at the interview. For non-UK nationals, written and oral English language skills are assessed.
All applicants are required to provide the following documents:
Originals of passport/birth certificate
If the applicant is a non-EU citizen, they must provide a letter from the Home Office confirming their right to be in the UK (this must also be confirmed by a relevant stamp in their passport) as wellas a letter from the Department for Education and Employment confirming their right to seek employment in the UK.
Proof of their National Insurance Number ie a recent payslip, P45 or P60.
Immunisation certificates for Tuberculosis, Rubella, Varicella and hepatitis B (including a Hepatitis B antibody level test).
A valid Criminal Records Bureau clearance certificate (less than 3 years old). If an applicant does not have a valid Police check, Delta is a registered body with the CRB and is able to obtain Disclosures directly from the CRB.
All applicants must produce a valid certificate of Manual Handling and Basic Life Support (less than one year old). If they have not attended a course in the past year, they are referred for training with Delta.
Qulified Nurses:
All qualified nurses must present their original statement of entry into the NMC Register and their Pin card.
REFERENCES
All applicants must names and addresses of two references. These references must be taken from the previous employers: one should be from their present/ most recent employer. The references must be clinical managers of at list G grand level.
INVESTIGATIVE CHECKS
All applicants must show prove of CRB clearance certificate (Enhance) Criminal Disclosures.
Visa and work permits must be verified by a letter from the Home office and all Departments for Education and Employment.
All Agency Workers must verify their immunisations by providing originals of their immunisation booklet. For Hepatitis's B, the original blood Test result with Antibody Levels must also be provided to prove immunity.
TRAINING AND DEVELOPMENT
New Dawn Health Care makes a available a wide range of courses for its members, to ensure that their skills are regularly updated and the highest level of care and good practice continues to be delivered.
Courses included:
14 Day Basic Care Assistant Training Programme
Moving and Handing Workshop
Basic Life Support
Food Hygiene
Infection Control
Palliative Care
Control & Restraint
PREP
NVQ's
A member's individual development needs are identified on joining new Dawn Health Care and their individual appraisals. Additional, development needs are identified on an ongoing basis through Performance Monitoring Forms.
Once a need for a certain type of training is identified, we will recommend a suitable training course and give assistance in any way we can.
The duration of these courses depends on the type of course, for example, an ENB course may last year, NVQ can last between 9 months to 3 years. New Dawn Health Care Workers are required to present an original of any certificates issued as a result of attending a course; a copy of this would be kept on their file.
EQUAL OPPORTUNITY
New Dawn Health Care is committed to a policy of equal opportunities for all and shall adhere to such policy at all times and will review on an on-going basis on all aspect of recruitment to void unlawful or undesirable discrimination. New Dawn Health Care will treat everyone equally irrespective of sex, sexual orientation, martial status, age, disability, race, and colour, and religion, ethnic or national origin and places a place on obligation upon all staff to respect and act in accordance with the policy.
New Dawn Health Care shall not discriminate unlawfully when deciding Which candidate/ temporary work is suitable for a vacancy or assignment, or in any terms of engagement for temporary workers. New Dawn Health Care will ensure that each candidate is assessed only in accordance with that candidate's merits, qualification and ability to perform the relevant duties required by the particular vacancy.
New Dawn Care will not accept any instruction from client that indicates an intention to discriminate unlawfully.